Beyond the Uniform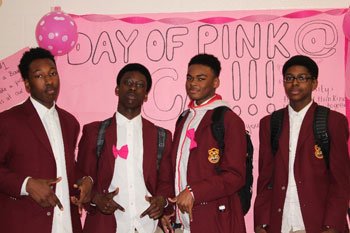 A few of my schoolmates rocking our uniform on Pink Day
Tan France's Masterclass, Style for Everyone, emphasizes the idea you can be stylish anywhere, despite any school or work-imposed dress codes. France cites his own personal experience of adhering to a strict school uniform while still finding ways to express his individuality.
In high school, boys and girls alike had to wear a burgundy blazer, white oxford shirt, brown khakis, and all-black shoes. Despite the strict dress code, we found creative ways to express our individuality. My friend had an array of vibrant ties, another donned bowties, older students wore G-shocks, and some girls rocked handbags instead of backpacks. My signature style was a carabiner with a few flashy keychains on my front belt loop.
Whatever the constraint, we always found ways to express ourselves.