Comparing Colombia and Peru
With just one week left, I'm in the homestretch of my two month solo travel journey in South America. For the first month, I backpacked through Colombia. For the past three weeks, I've been backpacking Peru. While there's many similarities between the two countries I've noticed plenty of differences. Here are a few observations:
Peru is much easier to travel than Colombia. This is one of the first things I noticed. First, there are many established tour companies. I used a hop-on, hop-off bus service called Peru Hop that was recommended by many friends. It makes travelling around Peru effortless. Between Lima and Cusco, there were 8 stops in total. I'd simply give them a time and date and they'd pick me up from my hostel, drive me to the next destination, then drop me off at my next hostel. Nothing like this existed in Colombia. Second, many people speak English in Peru. You can easily get by here without knowing a lick of Spanish. Unlike in Colombia, where rudimentary Spanish is essential. Third, Peru feels safe. Back in Colombia, I swear every other person I met had a story of getting robbed. I would never walk the streets at night alone either because I just didn't feel safe. On the other hand, I've walked alone in Lima and Arequipa on my own and I never felt threatened. For these same reasons, Peru is a great country to visit for a first time backpacker.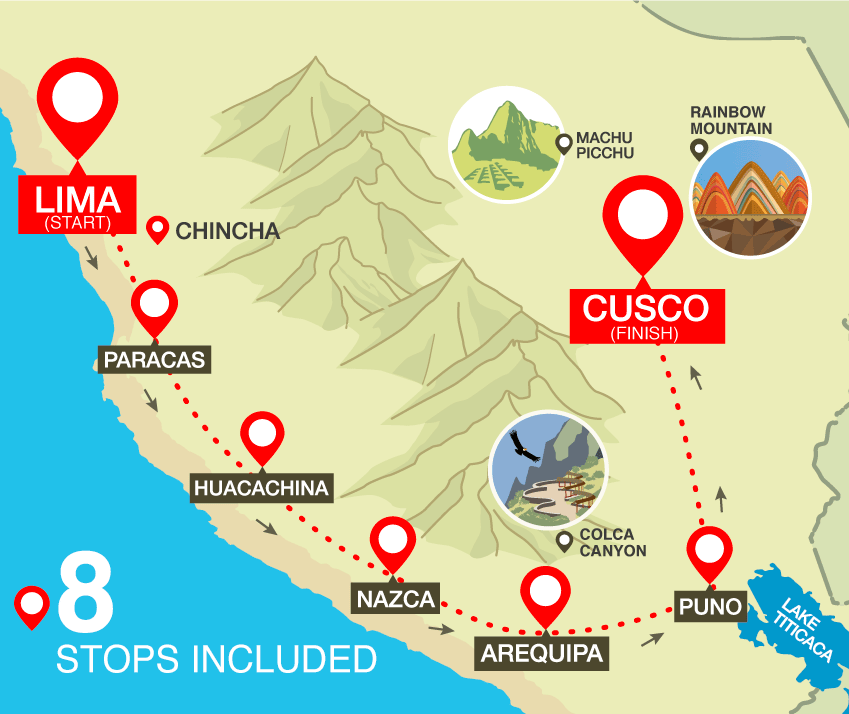 The Route that I took also known as the Gringo Trail
There's a clear cut trail in Peru that most travellers take. You first land in Lima then make your way to Cusco, the entry point to Machu Picchu. Because there's a set trail, most people do similar activities. They'll visit the Ballestas Islands in Paracas, go sandboarding in Huacachina, then hike the Colca Canyon as a warm up for Machu Picchu. Colombia, on the other hand, felt like choosing your own adventure. If you want to hike, you can do the lost city trek. If you want to chill at the beach, you can go to Palomino. If you want to party, Medellin's the city for you.

There are many short-term travellers in Peru. By short-term travellers I mean folks that have taken 2-3 week vacations from work. Given Peru's popularity and strong tourist infrastructure, you can easily plan an action-packed vacation within that time frame and hit all the major attractions in the country. On a related note, I haven't met many travellers that have stayed in Peru for more than a month. Personally, I feel like a month is more than enough time to explore Peru. But I've met many people that stayed in Colombia for months on end.

Peru is cold as fuck. Seriously. Of course, it's not as cold as Canada but the lack of heaters everywhere mean that I'd go to sleep freezing, go to the washroom freezing, and eat breakfast freezing.